14 September 2021

Thursday 16th. September 2021 talk postponed
The talk which was advertised for Thursday 16th. September has been postponed until further notice because of Covid cases in Cromarty. We apologise for this but trust you will understand.
09 September 2021

Thursday 16th. September 2021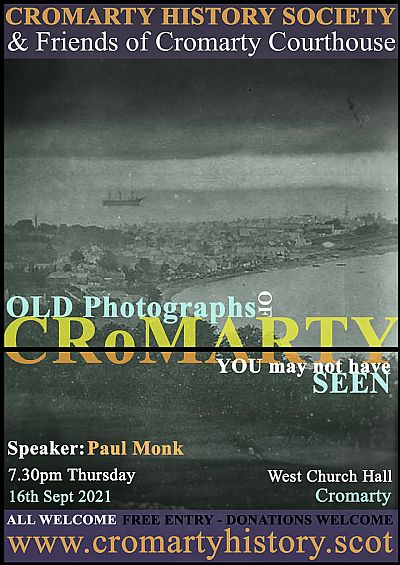 Thursday 16th September 2021:Old photographs of Cromarty — that you may not have seen
Paul Monk
Following a change in Covid protocols, Cromarty History Society has organised their first talk and we will work on a month by month basis rather than publishing a prearranged programme as things still remain a bit uncertain. The first talk will be free entry.
We are gingerly starting to offer a programme of History Talks this year, beginning in September — as usual on the 3rd Thursday of the month (16 September) at the West Church Hall. Our first talk will be by Paul Monk, volunteer curator at the Courthouse, on "Old photographs of Cromarty that you may not have seen".
We are not sure what the appetite will be for audiences going back to attending group meetings, so it's a "suck it and see' process.
We have a further talk arranged for October, but initially we'll be announcing talks on a month by month basis.
Cromarty History Society meets in the West Church Hall, Cromarty at 7.30pm on the the third Thursday of each month, September - April.
05 August 2021

Remote AGM 2021
Cromarty History Society & Friends of Cromarty Courthouse
3 August 2021
Dear Member/s
Despite another year of lockdowns and restrictions to our usual freedoms, the time does seem to have flown by. We hope that you have weathered this difficult period and have some optimism about a gradual return to routine.
Yet again, we have to facilitate an AGM remotely to observe some formalities, so included in this mailing are the following AGM documents:
If you have any comments to make or wish to oppose the re-election of the existing committee then please reply either by post to:

Mary Bowers, 4 High Street, Cromarty. IV11 8UZ

OR by using the contact link on our website: https://www.cromartyhistory.scot/feedback.asp
This should be done by Friday 13 August 2021.
We are able to co-opt additional members to our committee, so please let us know if you would be interested in joining us — this can be done at any point.
Looking forward to the 2021/22 season, we would like some feedback from you all. There is a form enclosed, which we ask you to complete and either email back to us, again using the contact link on our website: https://www.cromartyhistory.scot/feedback.asp or pop through the letterbox of 4 High Street.
Recommencing our meetings depends very much on whether we have a venue and also on prevailing government rulings. The committee has come to the decision that we will keep our plans short-term. If the circumstances allow, we will have our first meeting on Thursday 16 September and from that point we will organise each event on a month-by-month basis. This seems more sensible than planning the programme for a whole year and then having to make constant changes.
As usual, you can keep up-to-date, by checking our website: https://www.cromartyhistory.scot/
With best wishes and thanks for your continuing support.
Mary Bowers
on behalf of Cromarty History Society Committee
11 July 2021

A Tribute to Ian McCrae

Members and friends will be sorry to learn of the recent death of Ian McCrae. Ian was a previous Convener of the Society and served as a hardworking Committee member. After retiring from a career in hotel management that had taken him all over the world, Ian settled in Jamestown — outside Strathpeffer — where he soon became very involved in the project to restore Strathpeffer to its former glories as a spa town. Ian drew on these experiences in 2000 to give us a very informative talk on the history of Strathpeffer. A summary of his talk can be found on our Talks Archive page.

Ian's funeral takes place on Monday 26th July at 1.00pm at St Andrew's Scottish Episcopal Church in Fortrose. The only restrictions at present are in respect of the numbers the church can accommodate.