08 April 2020

Courthouse Request April 8th 2020
Request to help with Archive April 8th 2020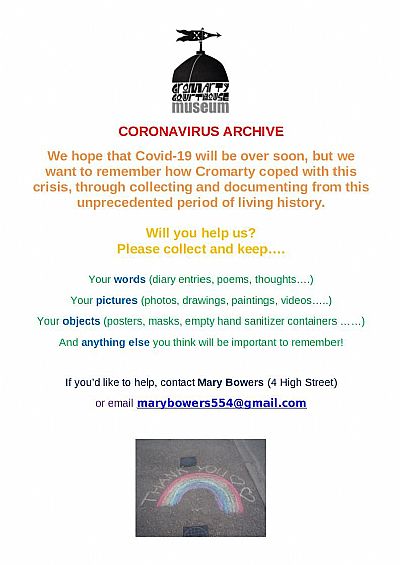 The Coromarty Courthouse requests everyone to help compile an archive about how Cromarty has responded to the Covid-19 crisis.
23 March 2020

Cancellation of April meeting
Cancellation of April meeting and postponement of AGM
It is with regret that we are letting you know that the final meeting of the Cromarty History Society 2019-20 season on April 16 is cancelled. Most things have now been overtaken by the Covid-19 crisis and we all need to keep ourselves as safe as possible. The April meeting incorporates our AGM, so we will need to make arrangements for this to take place before the start of a new season. If this is not possible by a face-to-face meeting, then we will look into a digital method of holding it this year.
Keep an eye on our website, where we will post details of the 2021-21 syllabus and keep you appraised of anything else we think you might like to know about.
Best wishes to you all and thanks for your continued support of the society.
Cromarty History Society Committee
16 March 2020

Thursday 19th. March 2020
Cancellation of meeting on Thursday 19th. March
In light of the Covid-19 pandemic, we have decided to postpone this week's Cromarty History Society talk to a later date. We are disappointed to have to do this but, in discussion with the speaker, we believe this is the best option, as we do not want to put any of our members at risk. We'll make a decision about the April meeting and AGM as things develop and will let you all know. Best regards to all and keep well - CHS Committee