12 March 2023

Meeting Tuesday 21st March 2023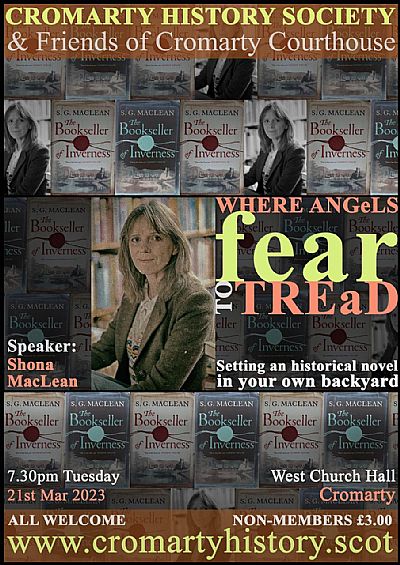 Where Angels Fear to Tread — Setting an historical novel in your own backyard
Shona MacLean
West Church Hall, Cromarty
The writing of The Bookseller of Inverness was born of a desire to come closer to home in Shona's writing, and to delve more deeply into her own history and culture. She will consider some of the challenges of writing a fictional adventure set in the Jacobite period, and discuss (with photographs) how she went about the research for the book, much of which was written in periods of lockdown. She will then speak briefly about a longprojected novel set in 1830s Cromarty, set aside twice, which she is now working on in earnest.
Shona MacLean was born in Inverness and brought up in a series of small Highland Hotels in Lochaber, Easter Ross and the Black Isle. After Dingwall Academy, she attended Aberdeen University and has a PhD in C17th Scottish History. Married with 4 now grown up children, she is the author of two series of C17th‐set historical crime novels, as well as the recent standalone, The Bookseller of Inverness. She has twice won the Crime Writers' Association dagger for best Historical Crime novel of the year.
Cromarty History Society now meets on the the third Tuesday of each month, September - April
05 February 2023

Meeting Tuesday 21st February 2023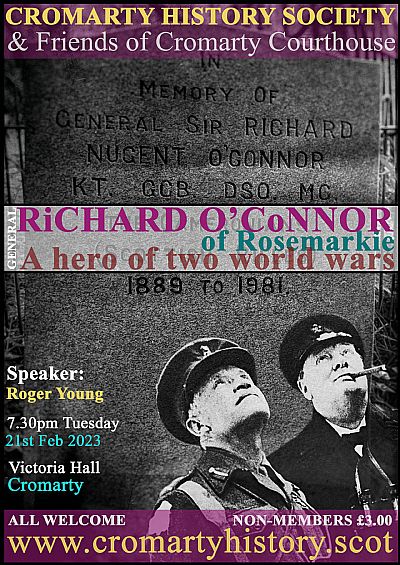 General Richard O'Connor of Rosemarkie —A hero of two world wars
Roger Young
Victoria Hall, Cromarty
General O'Connor had a distinguished military career in both WW1 and WW2 and also between the wars. His wife was part of the Ross family of Cromarty House. He is buried in the St Regulus burial ground next to her. O'Connor lived in Rosemarkie after WW2 and during that time was appointed Lord Lieutenant for Ross and Cromarty and Lord High Commissioner of the Church of Scotland. The talk focuses on O'Connor's overwhelming success against a much larger Italian Army in North Africa in 1940‐41, his accidental capture by the Germans close to the beginning of Rommel's campaign in 1941, his escape from imprisonment in Italy on his third attempt and his contributions to the gruelling British campaign against the Germans in Normandy and beyond in 1944. An overview will be given of the rest of O'Connor's life.
Roger Young was born in 1949. He grew up with a father who served in WW2 in the British Army in North Africa and Italy. His father was of the opinion that a defect of the British Army at that time was a shortage of good officers. Since then Roger has had an interest in this topic. He studied philosophy at Oxford and spent his working life teaching philosophy at the University of Dundee. One of the courses he taught was "Philosophy of Peace and War"
Cromarty History Society now meets on the the third Tuesday of each month, September - April
04 January 2023

Meeting Tuesday 17th January 2023, 7.30pm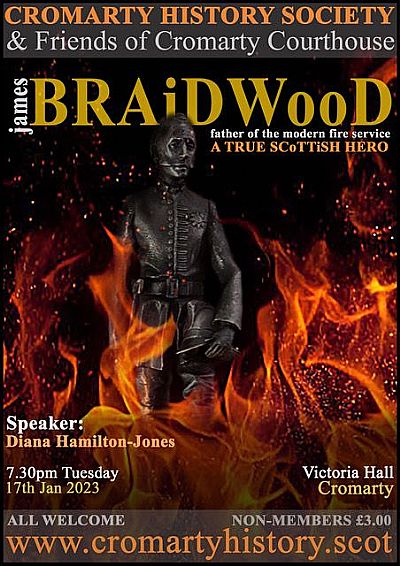 James Braidwood, father of the modern fire service — A true Scottish hero
Diana Hamilton-Jones
Victoria Hall, Cromarty
James Braidwood (1800-1861) was born in Edinburgh and grew to be a serious young man, diligent, thoughtful, brave, patiently persistent, kind, a devout Christian, a great family man and a fair and considerate leader who inspired love and respect. Above all, he was a man of vision. At the age of only 24 he was appointed as Superintendent and Master of Engines of the world's first municipal fire service which was established in Edinburgh in 1824. Before this time there was no official fire‐fighting service. By 1833 he was installed as the first Superintendent of the newly formed London Fire Engine Establishment and was always making improvements, keeping his men well trained and well cared for, constantly having to battle against authorities with deep pockets, tight purse strings and not a little arrogance. He was the first to introduce many different pieces of equipment and methods. Nowadays so much is taken for granted, but it is time to stop, think and pay homage to a man who is the rock on which is built today's modern fire service and ensure that his name is properly recorded in the history books. It is my hope that this talk will raise James Braidwood's profile and his legacy in the public conscience.
Diana spent the first 8 years of her life in Wales, the Far East and then Germany before attending an English boarding school until the age of 18. Her aptitude for languages found her employed in Frankfurt where she started in banking but quickly moved to Sotheby's and later transferred to New York, where she remained until the mid 1990s, organising several international travelling exhibitions. After a spell with the Asia Society, she moved to Amsterdam in 1996 working with the UN, first with the OPCW (Organisation for the Prohibition of Chemical Weapons) and then with the CFC (Common Fund for Commodities). She and her husband retired to the Highlands in 2017.
Cromarty History Society now meets on the the third Tuesday of each month, September - April.