24 April 2023

Annual Report 2022-23
CHS Annual Report for 2022‐23
This was our first full season since 2018/19 and it's quite a relief to get it under our belt!
Our membership number is a strong 36 this year and we also have regular visitors each meeting — on average we have a monthly audience of around 30. We've had a change of venue for meetings during the season, and we think that has gone well too, although there's some sadness at leaving the West Church Hall after so many years in residence there.
In keeping with our objectives, one of which is the aim to promote the history of the town and parish of Cromarty, this year talks have included:
What Cromarty Town Council got up to in the 1960s & 70s, before its demise as a result of Local Government organisation
The early 20thC story of a pupil teacher at Cromarty Public School, which came to light after some archive papers bought as part of a box at auction in Edinburgh were donated to the Courthouse museum
A hero of both world wars with connections to our town through both marriage and sometime residence here
And tonight we will look at how the town has been depicted through maps
As is usually the case, these talks have been researched and given by our members and we thank them for their considerable time and effort in enlightening us all on these subjects!
Another of our aims is to encourage community participation in discovering and preserving our local past — we view that goal particularly in relation to supporting our local Cromarty Courthouse Museum. As our society name includes Friends of Cromarty Courthouse, we try to give financial and other support when we are able. Since the last AGM, in July 2022, 3 members of our committee gave a guided tour of the town to members of the Tain Civic Trust — donations were received in aid of the museum. This summer we have plans to hold an additional CHS meeting, again with proceeds heading to the museum. We will send members details of this event and also publicise it locally and on social media.
Thanks need to be given to our stalwart committee, who take everything in their stride. Also to John McNaught for producing the eye-catching posters each month — he creatively uses images sent by our speakers to come up with works of art that tempt you with part of the story to be told in our meetings.
I can tell you now that we have already devised our programme for the next season — like this year — it's full of variety. I'd like to thank you all for supporting our society and hope you'll be back with us next season.
Mary Bowers
April 2023
31 March 2023

Meeting Tuesday 18th April 2023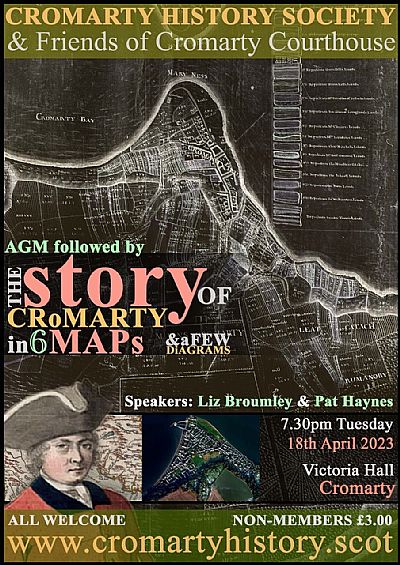 The Story of Cromarty in 6 Maps — (and a few diagrams)
Liz Broumley and Pat Haynes
Victoria Hall, Cromarty
Humans have been using maps to help them understand, interpret and even navigate the world around them for millennia, from 6th century BCE Babylonia to 21st century Google earth. Navigation wasn't always the most important criterion for early mapmakers: understanding the earth's relationship to the cosmos as well as understanding the relationship of different regions to each other meant early cartographers were producing philosophical, religious, scientific and political documents. This was dangerous activity as getting the interpretation wrong in the eyes of the powerful could lead to accusations of heresy, often with fatal results.
Cromarty appeared on the first survey‐based map of the whole of Scotland, created initially by Timothy Pont in the late 16th century. But Cromarty also appeared on earlier maps produced by some of the famous Italian and Dutch map makers of the early and mid 1500s. Pat and Liz will take you on a journey through Cromarty's history in maps, and where the ancients failed to provide the relevant maps they have bravely stepped in to fill the breach.
Liz Broumley trained in the social sciences, working in industry and academia before being seduced by computing, which led to a major career shift into AI and computer science. She spent the rest of her career both in research and tutoring, finally running a small research unit on elearning within UHI, cleverly combining her background skills with her love of Scottish mountains. Liz plans to be one of the oldest women ever to complete the Munros, for which maps, and a love of maps, are essential. When not huffing and puffing her way up hillsides, she can be heard tormenting a perfectly innocent fiddle.
Pat Haynes trained and practised as a landscape architect and land manager. She took advantage of early retirement to follow a long held ambition by buying a Highland hotel, running it with her husband for 6 years before rechartering in her profession and working on sundry commissions across the Highlands. A later move saw her working for SEPA as a Senior Environmental Planner, which precipitated a relocation to Cromarty, where she has been involved in the community archaeological dig, volunteered as a cook for the Arts Trust and been a fund raiser/project manager for the Harbour Restoration Project. She is currently a trustee of the Cromarty Arts Trust, and self-identifies as a mermaid.
Cromarty History Society now meets on the the third Tuesday of each month, September - April
12 March 2023

Meeting Tuesday 21st March 2023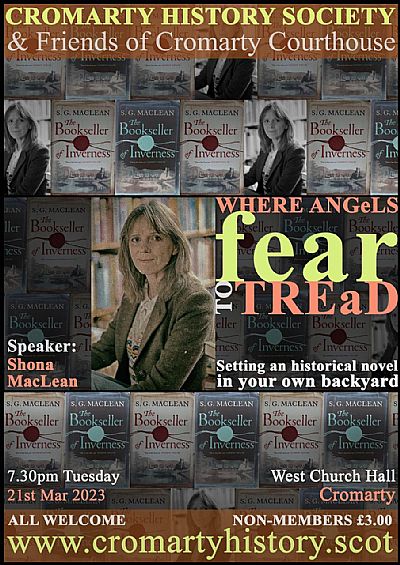 Where Angels Fear to Tread — Setting an historical novel in your own backyard
Shona MacLean
West Church Hall, Cromarty
The writing of The Bookseller of Inverness was born of a desire to come closer to home in Shona's writing, and to delve more deeply into her own history and culture. She will consider some of the challenges of writing a fictional adventure set in the Jacobite period, and discuss (with photographs) how she went about the research for the book, much of which was written in periods of lockdown. She will then speak briefly about a longprojected novel set in 1830s Cromarty, set aside twice, which she is now working on in earnest.
Shona MacLean was born in Inverness and brought up in a series of small Highland Hotels in Lochaber, Easter Ross and the Black Isle. After Dingwall Academy, she attended Aberdeen University and has a PhD in C17th Scottish History. Married with 4 now grown up children, she is the author of two series of C17th‐set historical crime novels, as well as the recent standalone, The Bookseller of Inverness. She has twice won the Crime Writers' Association dagger for best Historical Crime novel of the year.
Cromarty History Society now meets on the the third Tuesday of each month, September - April