23 March 2020

Cancellation of April meeting
Cancellation of April meeting and postponement of AGM
It is with regret that we are letting you know that the final meeting of the Cromarty History Society 2019-20 season on April 16 is cancelled. Most things have now been overtaken by the Covid-19 crisis and we all need to keep ourselves as safe as possible. The April meeting incorporates our AGM, so we will need to make arrangements for this to take place before the start of a new season. If this is not possible by a face-to-face meeting, then we will look into a digital method of holding it this year.
Keep an eye on our website, where we will post details of the 2021-21 syllabus and keep you appraised of anything else we think you might like to know about.
Best wishes to you all and thanks for your continued support of the society.
Cromarty History Society Committee
16 March 2020

Thursday 19th. March 2020
Cancellation of meeting on Thursday 19th. March
In light of the Covid-19 pandemic, we have decided to postpone this week's Cromarty History Society talk to a later date. We are disappointed to have to do this but, in discussion with the speaker, we believe this is the best option, as we do not want to put any of our members at risk. We'll make a decision about the April meeting and AGM as things develop and will let you all know. Best regards to all and keep well - CHS Committee
26 February 2020

Thursday 19th March 2020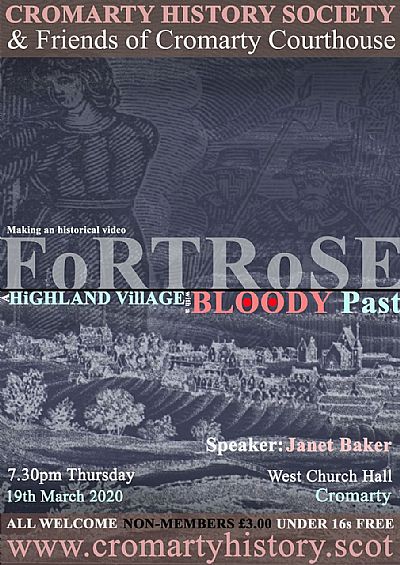 Thursday 19th march 2020: 'Fortrose, a Highland Village with a Bloody Past' — making an historical video
Janet Baker
In 2018 Janet Baker published a short, six minute video on the YouTube platform with the title Fortrose, a Bloody Past, an article about which followed in the Autumn edition of Chatterbox. Her researches identified places where, five hundred years ago, places of execution as well as punishment and mutilation were carried out within the village, characterising it as having a gory history. She will be talking about the inspiration for making the video, learning the process of making a video from the starting point of no knowledge at all, sourcing suitable images and issues about copyright together with finding a suitable voice-over and learning about uploading the finished piece to the internet as well as publicising it.
Janet spent her working life as an archivist within local government, moving to the Highlands from North East England in 2010 to take up the position of Education & Outreach Co-ordinator for Highland Council. This sparked her interest in Highland history and the Gaelic language and, since retiring in 2017, she has been able to devote time to making videos with historical content. She has been a resident of Fortrose since moving from Inverness in 2015.
Cromarty History Society meets in the West Church Hall, Cromarty at 7.30pm on the the third Thursday of each month, September - April
31 January 2020

Meeting Thursday 20th February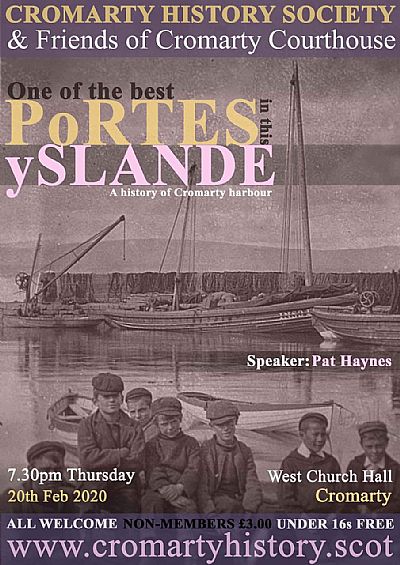 Thursday 20th February 2020: 'One of the best portes in this yslande' — A history of Cromarty Harbour
Pat Haynes
Cromarty Harbour is a Trust Port, which means that it is run by an independent statutory body established by an Act of Parliament. In Cromarty's case, there have been 2 Acts and several Revision Orders since the first pier was constructed in 1784. Pat will present a history of the harbour, its significance in the growth of Cromarty'ss trade over the centuries and its importance during past naval conflicts. She will also touch on the large scale emigration of the early nineteenth century, covered in detail by an earlier talk in this season's programme. The current trustees are masterminding a series of phased improvements including the dredging of the harbour, various repairs, replacements and upgrading works — a process that started on site in 2018 and is scheduled to complete later this year. She will outline the scope of these works and give the latest information regarding plans for the future.
Pat Haynes trained and worked as a landscape architect, holding positions in local government, private practice and as a part-time lecturer. Her last office job was as an environmental planner with SEPA in Dingwall, where her remit included renewable energy projects, EIS assessments and contributions to development plans throughout the north of Scotland with specialisms in Construction Environmental Management and electricity transmission projects. In a parallel universe she has found time to run the kitchens of hotels in North Berwick and Glen Loy, also of a tourist barge on the Caledonian Canal and to help out at the Old Brewery for the Cromarty Arts Trust. In her spare time, Pat enjoys painting in her studio and making archaeological reconstruction drawings for the North of Scotland Archaeological Society. However, the Cromarty Harbour regeneration work has been her main focus for the last few years.
Cromarty History Society meets in the West Church Hall, Cromarty at 7.30pm on the the third Thursday of each month, September - April
07 January 2020

Meeting Thursday 16th January 2020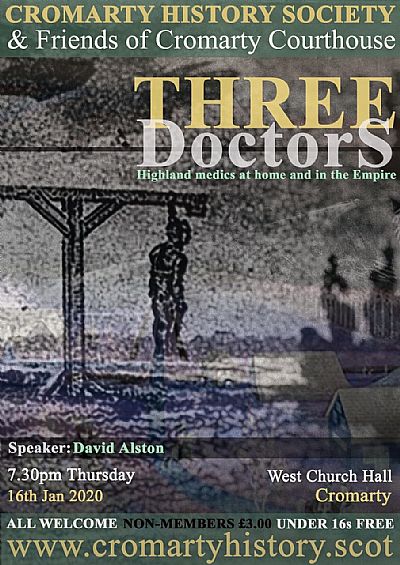 Thursday 16th January 2020: Three Doctors — Highland medics at home and in the Empire
In the 18th and 19th centuries Scotland's system of medical training produced many more doctors than were needed at home and Scottish doctors were to be found throughout the British Empire, serving in the army, as ship's surgeons, and on slave plantations. This talk describes three Highland doctors who worked in India, in the Caribbean, and in Cromarty — and who both healed and harmed in the places where they practised their profession.
Born and brought up in the Highlands, David Alston is a freelance historian and author who has been a youth worker in Toxteth (Liverpool), a schoolteacher in Wallsend (Tyneside), and (in the Highlands) an adult education organiser, a museum curator, a local authority councillor, and chair of an NHS Board. For twenty years he has been researching the role of Highland Scots in the slaveworked plantations of the Caribbean, especially Guyana and is among the first Scottish historians to address the issue of Scotland's involvement with slavery.
Cromarty History Society meets in the West Church Hall, Cromarty at 7.30pm on the the third Thursday of each month, September - April