29 November 2023

Meeting Tuesday 19th December 2023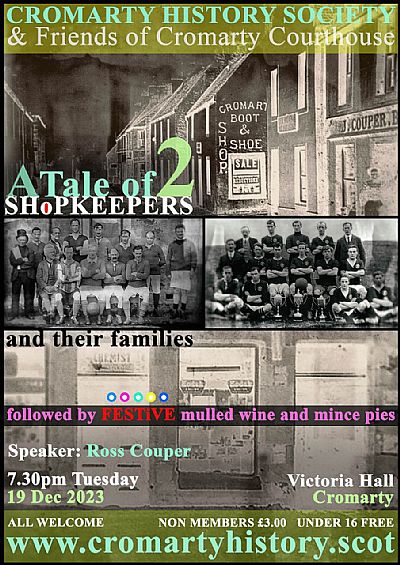 A Tale of Two Shopkeepers — and their families
Ross Couper
followed by festive mulled wine and mince pies
Victoria Hall, Cromarty
Walter Johnstone was the Chemist and Bookseller from 1864. J.M. Couper was a baker in 1897 then a general dealer in Cromarty. They both served in the Cromarty Artillery Volunteers, on Cromarty Burgh Council and as Elders of the Kirk. They were both keen sportsmen. The speaker will talk about their achievements.
Ross Couper retired to Cromarty after 12 years in heavy industry, a steel foundry and a lead smelter on Tyneside. For 20 years he was a lecturer in Mechanical Engineering at Northumbria University, then spent 3 years at Seoul Polytechnic in South Korea.
Cromarty History Society now meets on the third Tuesday of each month, September‐April and occasionally during the summer
30 October 2023

Meeting Tuesday 21st November 2023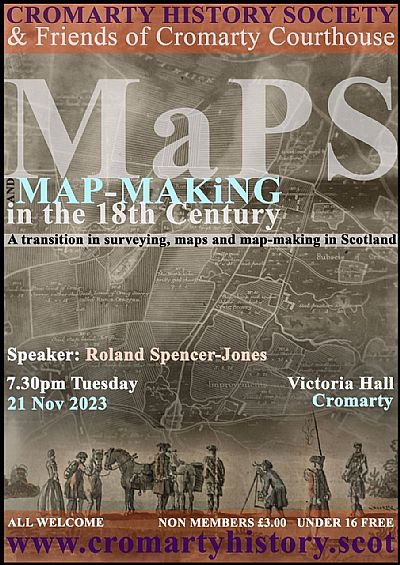 Maps and Mapmaking in the 18th Century — A transition in surveying, maps and map-making in Scotland
Roland Spencer-Jones
Victoria Hall, Cromarty
The formulaic drawn maps of the 17th and early 18th centuries became measured indicators of reality, preceding the work of the Ordnance Survey. What were the drivers for that transition? And how did the surveyors acquire and deliver their mastery? The speaker will illustrate his talk with examples of local estate maps, particularly from the Lovat Estate Archive.
Roland Spencer-Jones was a previous GP in Cromarty, developing an interest in archaeology and heritage once he was released from servitude. He is currently a trustee of NOSAS (North of Scotland Archaeological Society) and ARCH (Archaeology for Communities in the Highlands).
Cromarty History Society now meets on the third Tuesday of each month, September‐April and occasionally during the summer
01 October 2023

Meeting Tuesday 17th September 2023
A New perspective on the Highlands Before Culloden —The life‐writing of 'curious cleric' Rev. James Fraser (1634‐1709
Professor David Worthington
Victoria Hall, Cromarty
This talk will interrogate the autobiographical sources left by Rev. James Fraser (1634‐1709) of Kirkhill, a Gaelic‐speaking scholar, traveller and minister. The entire period between 1493 and 1746 can still sometimes appear enigmatic in the history of the region, but Professor Worthington will highlight a different side that becomes apparent in Fraser's presentation. His talk will focus on his strong engagement with Europe and his entanglement with empire, offering a fresh interpretation of the Highlands in the century before Culloden.
Professor David Worthington is an historian of Scottish (and wider British and Irish) connections with central Europe (c.1500‐c.1700). He researches and publishes also on the history of the firthlands of mainland northern Scotland from within a coastal history context. He completed his PhD in the Department of History, University of Aberdeen in 2000, and, prior to taking up his position at UHI, held the following posts: Irish Research Council for the Humanities and Social Sciences Postdoctoral Fellow at the National University of Ireland, Maynooth (2001‐2002); Leverhulme Early Career Research Fellow at the University of Aberdeen (2005‐2007); Visiting Professor on two separate occasions at Polish universities, in the cities of Kielce (2004‐2005) and Wroclaw (2007‐2008). On arriving at the Centre for History as a lecturer in July 2008, he led on the development and launch of both the university's first joint honours degree, and the validation of a suite of four online masters programmes in history from 2011‐17. Prof Worthington has been head of the Centre since 2011, and was awarded his professorship in 2020.
Cromarty History Society now meets on the the third Tuesday of each month, September‐April and occasionally during the summer