11 November 2022

Meeting Thursday 17th November 2022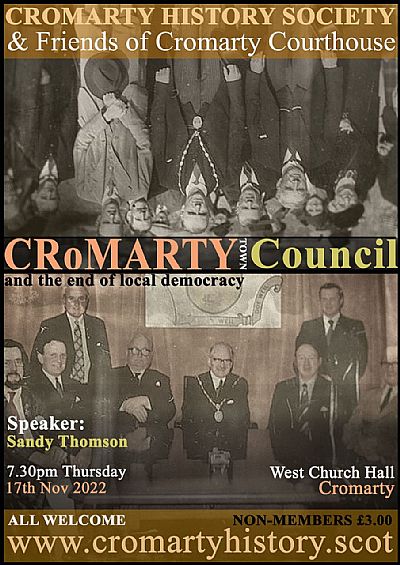 Cromarty Town Council — and the end of local democracy
Sandy Thomson
As a medieval burgh, Cromarty had a Town Council — one that lasted in various forms until 1975. Tonight's talk outlines all the changes to the present day, and then looks in detail at the activities of the last Town Council, as reported in the minutes of their meetings.
Sandy has been a member of Cromarty History Society for the past twenty-five years. He has been a committee member, our Convener, and he reckons that tonight will be his sixteenth talk to the Society. He moved to Cromarty in 1997 following retirement from Strathclyde University.
Cromarty History Society meets in the West Church Hall, Cromarty at 7.30pm on the the third Thursday of each month, September - April
13 October 2022

Meeting Thursday 20th October 2022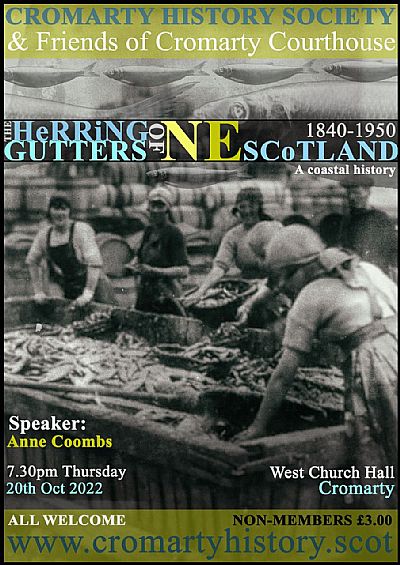 The Herring Gutters of N. E. Scotland — A coastal history
Ann Coombs
During the 19th century and right up to the outbreak of World War 2, herring fishing in the north east of Scotland established itself as a dominant player in the growing market for cured fish in continental Europe, particularly Germany and Russia, as well as helping to slow the decline in the population of the Scottish Highlands. This talk will look at the earliest records and images of the herring gutters, following their history and lives until the 1950s. It will conclude with a brief description of the speaker's more recent work on the Zulu boat graveyards found in the last ten years, relating this back to her previous studies.
Anne Coombs is now retired but worked as a Field Officer for Highland (Monument Warden), Historic Scotland, and has been a member of the North of Scotland Archaeological Society (NOSAS) for about twenty years. Her Masters degree in 2007 had the herring gutters as its subject, an interest that she has continued to follow with further research, in particular through archaeology. She has recently been involved with surveys along the coasts of Sutherland, Ross and Inverness‐shire recording, amongst other things, the boat graveyards at Littleferry and Munlochy for SCAPE.
Cromarty History Society meets in the West Church Hall, Cromarty at 7.30pm on the the third Thursday of each month, September - April