12 September 2018
Meeting September 20th 2018: Kirkmichael, Back from the brink of destruction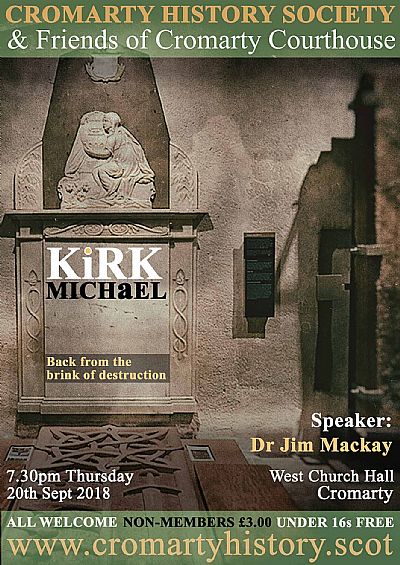 Kirkmichael — Back from the brink of destruction
Dr Jim Mackay
Cromarty History Society's new season of talks opens with a talk from one of our regular and most popular speakers, Dr Jim Mackay. In an entertaining and informative presentation, Jim tells the story of the Kirkmichael adventure rescuing the increasingly derelict medieval mausolea and former church buildings at Kirkmichael by Udale Bay, and establishing within them a display of the pre-Reformation ornate gravestones found at Kirkmichael and nearby Cullicudden.
Dr Jim Mackay is Chairman of the Kirkmichael Trust, formed by the community on the North side of the Black Isle to rescue Kirkmichael. A keen local historian, he grew up in the Black Isle but worked all over the UK before returning north, where he is a manager with SEPA.
Author of "Resolis 'Slope of Light' Guide to a Black Isle Parish", "Guide to Jemimaville and the Colony ('Reachfar') creative home of Jane Duncan, Author" and the recently published "Tales from Kirkmichael, stories and history from the Black Isle, including a Guide to Kirkmichael", Jim has been stimulating popular interest in the heritage value of graveyards of the north. He has conducted guided tours of several Easter Ross and Black Isle graveyards for school pupils, and lectured at many venues across the Highlands on the subject, as well as on the historical ferries of the Highlands, his other great heritage interest.
Cromarty History Society meets in the West Church Hall, Cromarty at 7.30pm on the the third Thursday of each month, September - April