13 April 2018
Meeting April 19th 2018:AGM followed by The Cromarty Courthouse Lecture Crime and punishment at the Courthouse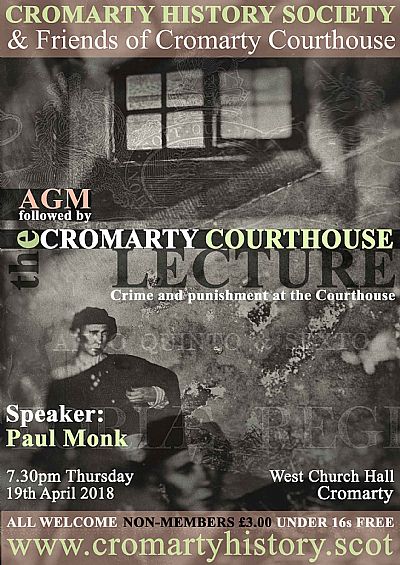 AGM followed by The Cromarty Courthouse Lecture
Crime and punishment at the Courthouse
Pauk Monk
Following a short AGM, the 2017-18 season concludes with a talk from our friends at the Cromarty Courthouse Museum. The elegant A listed 18th century building was restored to an award winning museum in 1990 and is run by the Community and managed by volunteers. It houses a fascinating collection of historical objects and documents and curates special exhibitions each year relating to the town and parish of Cromarty.
Paul Monk is the Chair of Trustees of Cromarty Courthouse Museum and has become fascinated by the history of the building and what went on there. The subject of over 150 years of dealing with crime and punishment is vast, but in this talk the emphasis will be how different to now law and order was in the past. These differences will be illustrated by a real case from the 1770s, another case from the 1860s and a selection of stories of cases that happened during World War 1.
Having taken early retirement as a primary school headteacher, Paul worked as a freelance museum consultant for a few years in England. When Brenda retired, the Monks moved to Cromarty nearly 10 years ago and they have both been involved with the Courthouse for nearly all that time. Paul has presented talks to the History Society before — covering subjects as a widely ranging as the stories behind some of the East Church gravestones, HMS Natal Disaster, Royal Naval Air Station Cromarty 1913 and objects from the Courthouse that are seldom seen.
The Cromarty History Society has a very Special Summer Talk planned (more details to follow) and the new season resumes on Thursday 20th September 2018. We look forward to seeing you then!
Cromarty History Society meets in the West Church Hall, Cromarty at 7.30pm on the the third Thursday of each month, September - April