12 February 2017
Meeting February 16th 2017: Rosemarkie Caves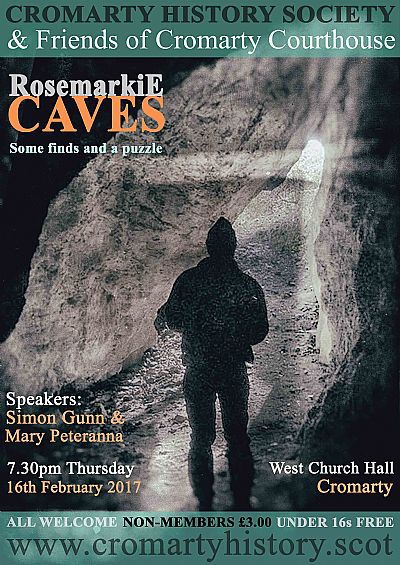 Rosemarkie Caves: Some finds and a puzzle
Simon Gunn and Mary Peteranna
Thursday February 19th. 2017, 7.30pm, West Church Hall, Cromarty
Simon Gunn moved to the Black Isle with his family in 1982 and in the same year, came across the series of caves on a coastline walk from Rosemarkie back home to Cromarty. He wondered if they had been used by huntergatherers and this was the beginnings of an interest for him that would span several decades.
However, it was not until his retirement in 2006 that Simon was able to spend more time on research and conducted a pilot dig in one of the largest of the 19 caves with the help of local archaeologist, John Wood. Although having been high and dry for over 4000 years, the caves had largely been undocumented. Their discoveries a decade ago established that the caves had been sites of human habitation for many centuries and further exploration would reveal more about how the caves were used and when. In 2010, The Rosemarkie Caves Project (RCP) was established as a partnership between people living locally and the North of Scotland Archaeology Society (NOSAS), assisted and advised by professional archaeologists. The RCP team's first project was to survey and excavate Caird's Cave near Rosemarkie, traditionally said to have been the site (which the team later confirmed), for Dr William Maclean's excavations between 1907-12.
This talk to the Cromarty History Society will be a fascinating update since Simon's last presentation to the Society in 2011, with a promise to reveal some new information for the very first time!
Cromarty History Society meets in the West Church Hall, Cromarty at 7.30pm on the the third Thursday of each month, September - April