12 February 2016
Meeting February 18th 2016: Still Life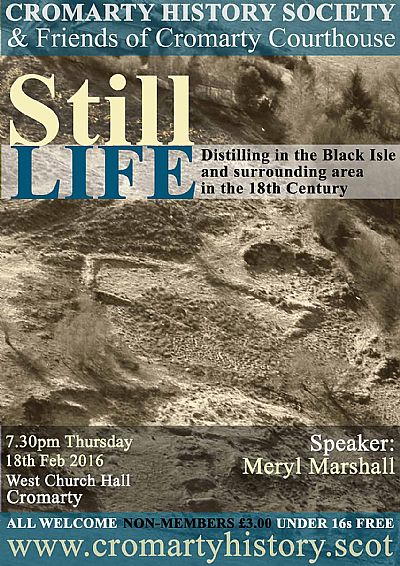 Distilling in the Black Isle and surrounding area in the 18th Century
Meryl Marshall
The history of Whisky production in the Black Isle and surrounding area goes back nearly 400 years. This presentation tells the story of of distilling, both legally and illegally from information gleaned by members of NOSAS during two extensive projects, where archaeological evidence was linked with the history with fascinating results. In Strathconon, 53 illicit still sites were discovered in the glen and during the Mulchaich project, a survey and excavation took place of an 18th century whisky distillery at Ferintosh. Production there had continued for nearly 100 years and such was the fame and popularity of the whisky that when it was withdrawn in 1786, Robert Burns was moved to lament in his poem "Scotch Drink':
"Thee Ferintosh! O sadly lost!
Scotland lament frae coast to coast!
Now colic grips, an' barkin' hoast
May kill us a';
For loyal Forbes' charter'd boast
Is taen awa'!"
Meryl Marshall has always had an interest in archaeology but was unable to pursue it until later years, when just before retiring she completed the Certificate in Field Archaeology run by Lifelong Learning Centre of Aberdeen University. In 1998, fellow graduates formed the North of Scotland Archaeological Society (NOSAS) with the aim of encouraging interest and participation of the general public in the archaeology of the Highlands. Meryl has been project leader for several NOSAS projects, including Glen Feshie and Strathconon which both led to successful publications.