15 January 2016
Meeting January 21st 2016: Scandals and Reay House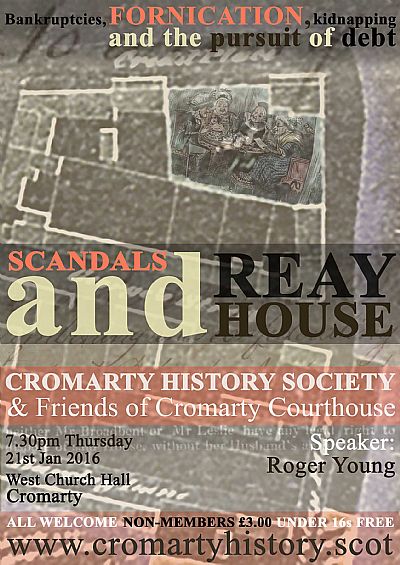 Bankruptcies, fornication, kidnapping and the pursuit of debt
Roger Young
What is now called "Reay House" in Cromarty had connections to three families for most of the nineteenth century and a fascinating history, as Roger Young, the current owner has uncovered.
Alexander Sibbald, a London merchant, had it built and owned it, but in his absence, the family swiftly and controversially lost possession. A branch of the Gordon family took over and eventually, George Gordon Smith, the surgeon, gained legal title and bought adjoining land. Roger will focus on the Sibbalds, on wheeler-dealing, booms and busts, crime, fraud, court cases and bankruptcy in early nineteenth century London and try to puzzle out the links between these events and the loss of the house in Cromarty. He will touch on Sibbald's links with the United States which may be crucial and speculate as to his innocence. He will dwell a little on the Gordons and add to what David Alston has told the Society about the complex character of George Gordon Smith. In passing, Roger will give the house its old name.
Roger Young was born in the Wirral, Cheshire, although one of his earliest memories is of his Scottish grandmother. One side of his family consisted of seafarers and the other of English farmers. He was educated at Wallasey Grammar School and Keble College, Oxford and was subsequently a philosopher at the University of Dundee until his retirement in 2011.