08 January 2019

Meeting January 17th 2019: Making Plans for Daldon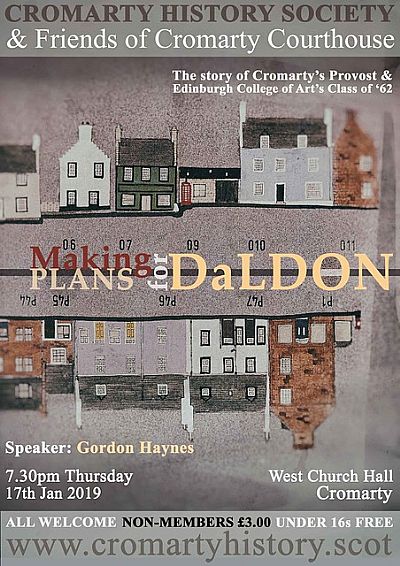 Making Plans for Daldon — The story of Cromarty's Provost and Edinburgh College of Art's Class of '62
Gordon Haynes
Cromarty History Society opens the new year with an illustrated talk based on the 1962 report by students from Edinburgh College of Art's Town and Country Planning department.
Gordon Haynes has a close connection with his subject matter. Not only did he teach planning at Edinburgh College of Art but he used the 1962 Cromarty Report to demonstrate elements of townscape to landscape architecture students.
He will also outline Cromarty's circumstances in the early 1960s, identify the movers and shakers in the drive for regeneration, describe the 'suggestions and proposals' put forward by the report, and generally discuss its impact.
Gordon describes himself as, "a Landscape architect, hotelier, writer, grandparent".
Cromarty History Society meets in the West Church Hall, Cromarty at 7.30pm on the the third Thursday of each month, September - April