28 April 2018

Annual Report for 2017/18
CHS Annual Report for 2017/18
One of the things that struck me this season was the enthusiasm and personal fulfilment achieved by our speakers through their research.
Verity Walker talked about her professional life in the field of interpretation — the places it had taken her to and the stories she had uncovered.
Terry Williams was driven by an impulse to find the few remaining drovers left on the isles of South Uist, Benbecula and North Uist, after visiting the Drovers Exhibition at the Dingwall Mart. She gave us a very personal account of her travels and findings and we all felt her sense of achievement.
Two of our own members, Janie Verburg and Sheila Currie, were inspired to research the tales of their homes in Cromarty. They ended up gaining not only new skills and uncovering fascinating tales but also forming real connections with the lives of people who had lived there before them. Their presentation was a wonderful example of the pleasure of their accomplishment being transmitted to an appreciative audience.
The stories told in our meetings generally start close to home and yet their webs can spread across the globe. Eric Grant discovered that Miss Amy Yule of Tarradale had spent her formative years abroad — in Geneva and Palermo in Sicily and then later, as an independent woman, she travelled by herself to Crete, Athens, Russia, and France. Sheila Currie discovered that 15, Duke Street was a home to people from all parts of the British Isles and beyond, including a family from Prince Edward Island in Canada.
We also witnessed that local history needs folk with local knowledge and connections. Jim and Steve Leslie returned to the Society to talk about the origin and development of hospitals in Inverness — part of their determination to map the history of the health service across the Highlands. They are looking to cover the same ground in Ross-shire now and will continue to need the assistance of people to help fill their gaps, with newspaper cuttings, photos, annual reports of local hospitals and their own memories.
Not everything is deadly serious though. For our Christmas meeting, David Alston set himself the light-hearted challenge of offering a timeline of key pointers to the history of our town on one side of A4 paper. Sandy Thomson regaled us with sporting tales of unruly "folk games" necessitating large quantities of whisky being imbibed!
The committee hope you've enjoyed the programme of talks this year and might be inspired to share your own in the future. As usual, thanks must go to our stalwart committee, who manage our meetings so professionally. We are sorry to lose of one of our 'gang' — Janie Verburg is retiring from our committee (but not the society) Thank you Janie for your guidance and the touch of style you have added to our meetings!
Once again I want to record our sincere gratitude to John McNaught, who every month provides us with stunning posters to advertise our meetings.
Our contribution to the Cromarty Courthouse, as the Friends Group of the museum, will this year be a donation funded through a special summer lecture that we will host here on the evening of 7 July. Please join us and encourage others to attend. This evening, as a demonstration of this relationship, Paul Monk, curator, will present the Cromarty Courthouse lecture.
It just remains for me to thank you all for your loyal support and attendance.
Mary Bowers
19 April 2018
13 April 2018

Meeting April 19th 2018:AGM followed by The Cromarty Courthouse Lecture Crime and punishment at the Courthouse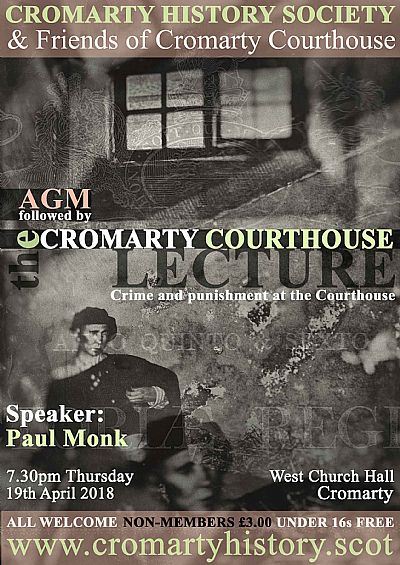 AGM followed by The Cromarty Courthouse Lecture
Crime and punishment at the Courthouse
Pauk Monk
Following a short AGM, the 2017-18 season concludes with a talk from our friends at the Cromarty Courthouse Museum. The elegant A listed 18th century building was restored to an award winning museum in 1990 and is run by the Community and managed by volunteers. It houses a fascinating collection of historical objects and documents and curates special exhibitions each year relating to the town and parish of Cromarty.
Paul Monk is the Chair of Trustees of Cromarty Courthouse Museum and has become fascinated by the history of the building and what went on there. The subject of over 150 years of dealing with crime and punishment is vast, but in this talk the emphasis will be how different to now law and order was in the past. These differences will be illustrated by a real case from the 1770s, another case from the 1860s and a selection of stories of cases that happened during World War 1.
Having taken early retirement as a primary school headteacher, Paul worked as a freelance museum consultant for a few years in England. When Brenda retired, the Monks moved to Cromarty nearly 10 years ago and they have both been involved with the Courthouse for nearly all that time. Paul has presented talks to the History Society before — covering subjects as a widely ranging as the stories behind some of the East Church gravestones, HMS Natal Disaster, Royal Naval Air Station Cromarty 1913 and objects from the Courthouse that are seldom seen.
The Cromarty History Society has a very Special Summer Talk planned (more details to follow) and the new season resumes on Thursday 20th September 2018. We look forward to seeing you then!
Cromarty History Society meets in the West Church Hall, Cromarty at 7.30pm on the the third Thursday of each month, September - April
13 April 2018

Courthouse Quiz April 14th. 2018
THE CROMARTY ARMS PUB QUIZ
BROUGHT TO YOU BY
Q:SOLVE THIS ANAGRAM!
Join us for a fun quiz night and raffle on
Saturday 14 April at 8.00pm
Individuals or teams (max. 5) welcome
All-inclusive entry price of £5 per person to include
a Heads and Tails competition!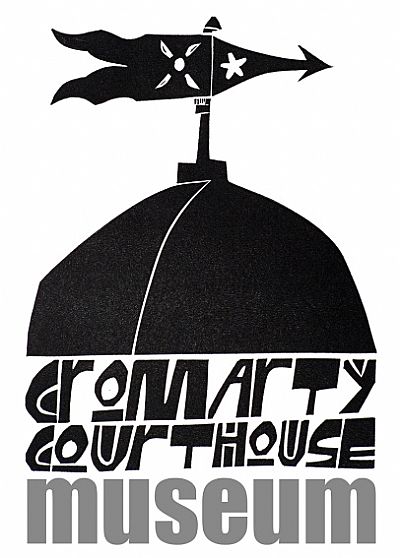 (A: Cromarty Courthouse Museum)
Book a table with Helen at The Arms!
10 March 2018

Meeting March 15th 2018: A Tale of Two Homes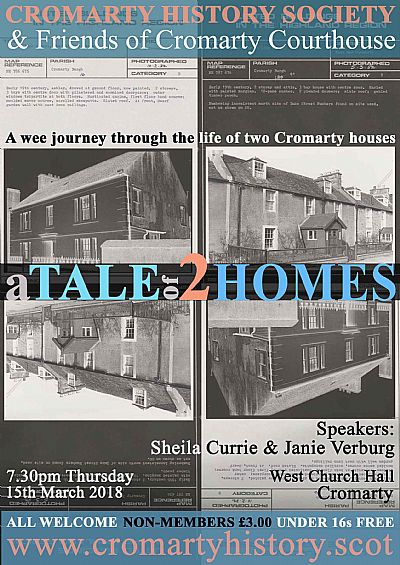 A Tale of Two Homes: A wee journey through the life of two Cromarty houses
Sheila Currie & Jane Verberg
This month's talk is best summarised by the words of both speakers, who have spent a year researching the history of their homes and present for the very first time their findings. "Janie and Sheila have been exploring the lives & times connected to their homes in Cromarty; both built in the early 19th century in what was then the very new town among the farmlands of the 'Ness'. We'll each tell what we've uncovered about the lives of the people in each of our houses over the last 200 years. We want others to feel confident in carrying-out their own research and so we will also talk about the process of research where the two of us — both shambling amateurs! — have found our paths through Archives and Historic Records."
Sheila Currie
"My first love was — and probably still is — Archaeology and I worked on digs across the UK in my teens and twenties. I trained as a Geologist which gave me a vivid sense of deep time and how the world beneath our feet was created; and insights into the geological processes making the future all around us all the time. A "career" that began by doing practical outdoor conservation work culminated in helping Scottish Natural Heritage become a low-Carbon organisation; and developing management & reporting tools for Public Bodies across Scotland to do the same. Now "retired", I am active in Politics, obsessed by mesolithic and pictish history; and I am a committee member of the Cromarty History Society."
Janie Verburg
"I grew up in a tiny village on the Chiltern Hills in Buckinghamshire, England. I was fascinated by the Iron Age Hillfort that was tucked in at the back of the Common and early on I wrote about the women I thought must have lived on the site. I went on to study Theology and Philosophy at St David's University College in Wales and later became a teacher for children with 'Learning and Behavioural Difficulties'. I moved to Cromarty in 2004 and immediately felt at home among the stories of Hugh Miller. I adore walking through our town, feeling as if we too are weaving histories. The Past is here with us everyday but so is the Now. Recently I have had a strong sense that our Now will become the Past in someone else's Future. That places a responsibility on us to document. Preparing this talk about the Old Bank is a small attempt to contribute to that process."
Cromarty History Society meets in the West Church Hall, Cromarty at 7.30pm on the the third Thursday of each month, September - April