15 February 2019

Meeting Thursday 21st February 2019: From factor's house to The Factor's House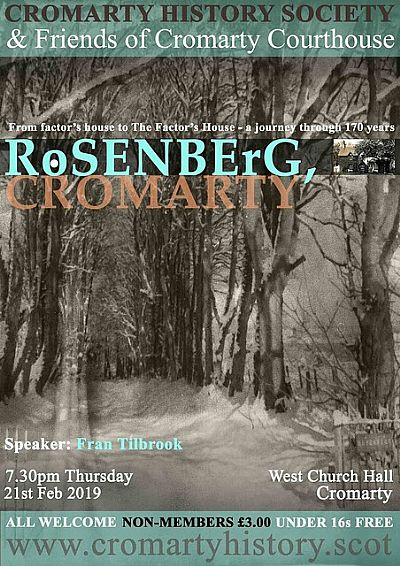 From factor's house to The Factor's House — a journey through 170 years
Fran Tilbrook
Cromarty History Society's February talk is given by Fran Tilbrook who has lived in Cromarty since 1975 and for 39 years of that time in the house Rosenberg, the subject of her talk.
"Rosenberg was built around 1847 as the Cromarty Estate factor's house. Through its long life the house has seen a cast of interesting owners and occupiers come and go. Their fascinating stories will be revealed, some of which reach right down to recent and presentday residents of Cromarty. We meet a ruthless estate factor, the courageous widow of a war hero army doctor and her family, learn of a daring sea rescue with a romantic follow-up, get to know a human 'Google' and his film animator son, then an Antarctic scientist, and finally an award-winning B&B owner whose change of house name has returned Rosenberg to its roots. Along the way there are photos documenting the changing face of this well-loved family home", Fran Tilbrook.
An administrator for most of her working life, Fran's last job was setting up and running the Health Promotion Department's library of health-related resources for NHS Highland. She was Secretary of 'Cromarty 2007', the group behind the memorable 'Sea Cromarty Sparkle' events, and led the project Cromarty — Living by the Sea with its book and associated website. She writes occasional articles for Chatterbox and is part of the teams helping to keep the East Church clean and looking after the Hugh Miller Birthplace Garden (NTS).
Cromarty History Society meets in the West Church Hall, Cromarty at 7.30pm on the the third Thursday of each month, September - April
27 January 2019

BBC on Keats and Cromarty

At our Christmas 2018 evening, one of our short talks was about the poet John Keats' short time in Cromarty; here to catch a boat south, following his long walking tour through England, Ireland and Scotland.

The BBC had the same idea as us and on Sunday 6 January they broadcast a programme (called "Keats Goes North") about this walking tour. The programme is available to listen again as a podcast on the BBC 'Sounds' website here:

https://www.bbc.co.uk/sounds/play/m0001wy

It was reassuring to note that the BBC didn't add much that we didn't, and good to see that the Cromarty History Society is once again leading where others follow: we had Rosemarkie Man first and we had the "Who lived in THIS house" story before the BBC did their version.

Come along to our 2019 evening talks to find out what else is new and exciting
08 January 2019

Meeting January 17th 2019: Making Plans for Daldon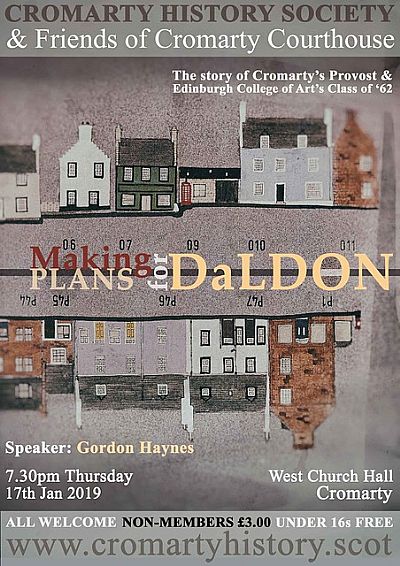 Making Plans for Daldon — The story of Cromarty's Provost and Edinburgh College of Art's Class of '62
Gordon Haynes
Cromarty History Society opens the new year with an illustrated talk based on the 1962 report by students from Edinburgh College of Art's Town and Country Planning department.
Gordon Haynes has a close connection with his subject matter. Not only did he teach planning at Edinburgh College of Art but he used the 1962 Cromarty Report to demonstrate elements of townscape to landscape architecture students.
He will also outline Cromarty's circumstances in the early 1960s, identify the movers and shakers in the drive for regeneration, describe the 'suggestions and proposals' put forward by the report, and generally discuss its impact.
Gordon describes himself as, "a Landscape architect, hotelier, writer, grandparent".
Cromarty History Society meets in the West Church Hall, Cromarty at 7.30pm on the the third Thursday of each month, September - April
17 December 2018

Meeting December 20th 2018: Cromarty Cameos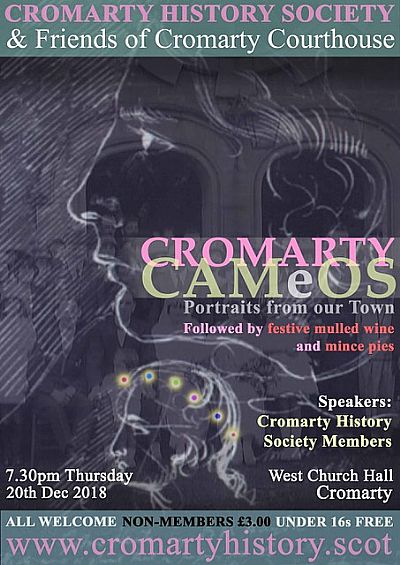 Cromarty Cameos — Portraits from our Town
Committee Members
The December Talk at the Cromarty History Society will once again take a little different form to combine our informative event with a relaxed festive gathering for members and visitors. The Talk will be presented by members of the History Society Committee and looks briefly at three topics of unusual interest.
The three short 'cameos' will cover the lives of a local worthy from the middle of the 20th century, the visit of a literary giant and the reminiscences of Cromarty from 1926 to 1943, by an unknown lady. These presentations will include surprises and an interesting conumdrum which can be discussed over the complimentary mulled wine and festive fare afterwards!
Cromarty History Society meets in the West Church Hall, Cromarty at 7.30pm on the the third Thursday of each month, September - April