23 November 2017

UHI Meeting December 13th 2017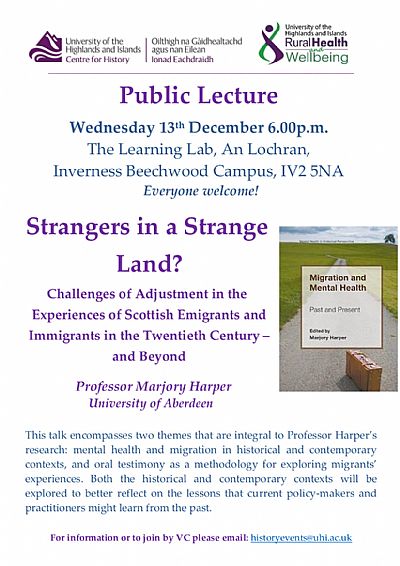 We have been asked to advertise the UHI Public Lecture entitled "Strangers in a Strange Land" by Professor Marjory Harper, University of Aberdeen, at 6.00 p.m. on 13th. December at the Inverness Beechwood Campus.
12 November 2017

Meeting November 16th 2017: The Remarkable Miss Yule of Tarradale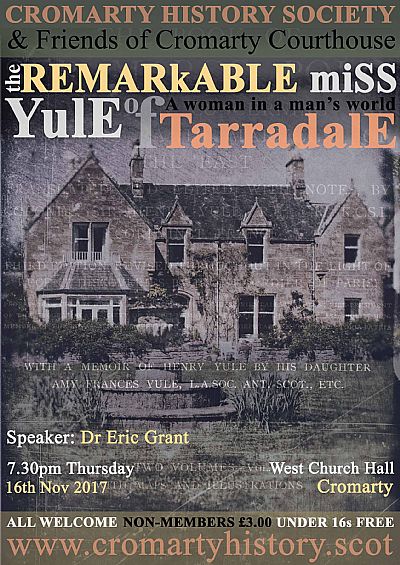 The Remarkable Miss Yule of Tarradale: A woman in a man's world
Dr Eric Grant
Please note that the induction loop is functional now and will be used at this meeting
Dr Eric Grant is making a very welcome return to the Cromarty History Society to share more of his thorough and wide ranging research on a subject 'close to home', as Tarradale House near Muir of Ord is where he lives.
Eric is a retired lecturer in historical geography in archaeology and has spent many years studying the archaeology of the area and the rich history of Tarradale House and its previous owners.
Amy Frances Yule (1852–1916) was largely privately educated by her parents and most of her early life was spent in Sicily and Greece, the latter experience leading to her compiling the definitive edition of Murray's Handbook to Greece. She bought Tarradale in the 1890s, where her great-uncle Sir Roderick Murchison, the eminent Victorian geologist was born in 1792.
Amy Yule never married and was very much a "lady laird" who set about extending and improving Tarradale. She added a library and outbuildings and a walled garden, undertaking all the technical correspondence with builders and tradesmen herself. Although she seems to have been basically a kind and generous person who supported many philanthropic causes, she was immensely independent and was noted for arguing with ministers during their sermons.
When she died she left Tarradale House and all her money to "The Murchison of Taradale Memorial Trust" to provide a "place of rest and refreshment for poor scholars", thus creating one of the earliest centres of adult education in the Highlands.
There is no known portrait or photograph of Amy Yule, but this talk will paint a vivid picture of a "remarkable" woman, a 100 years on.
Cromarty History Society meets in the West Church Hall, Cromarty at 7.30pm on the the third Thursday of each month, September - April
25 October 2017

Groam House Meeting October 26th 201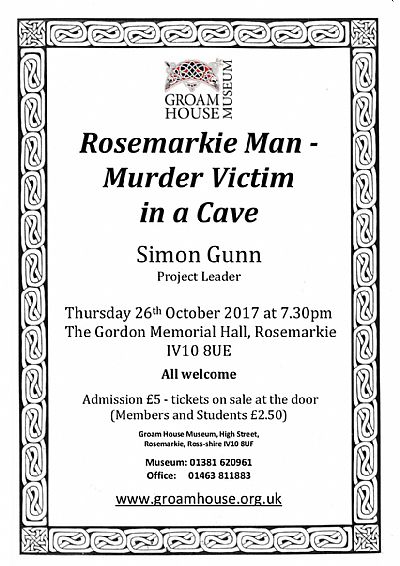 We have been asked to advertise the Groam House Lecture on "Rosemarkie Man — Murder Victim in a Cave" by Simon Gunn on 26th. October.
15 October 2017

Meeting October 19th 2017: The Hospitals of Inverness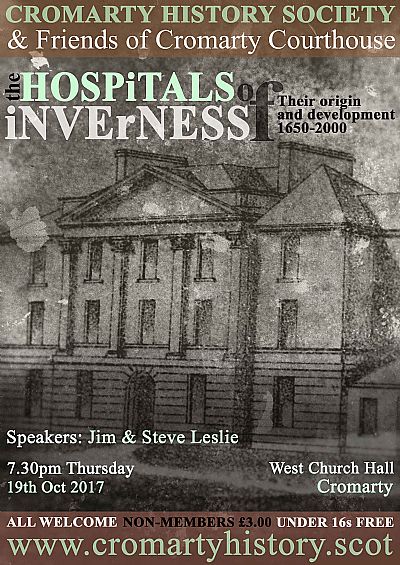 The Hospitals of Inverness : Their origin and development 1650–2000
Jim & Steve Leslie
The Cromarty History Society is delighted to welcome back father and son, Jim & Steve Leslie to share more of their research on the History of Highland Hospitals with a focus on Inverness. This will include a look at the establishment and development of the Northern Infirmary (later the RNI), the Inverness poorhouse (including Dunbar's Hospital), the Citadel and Culduthel fever hospitals, the Forbes Dispensary, the Bona Convalescent Home and various military hospitals, culminating in the establishment of Raigmore Hospital. The development of these institutions will be considered in the context of the evolving social conditions and advances in medical science. Jim and Steve's project began in 2008 with a 2 year research programme supported by the NHS Endowment Fund and the Centre for History at the UHI. Their work culminated in a report documenting the history of over 60 Highland Hospitals, many of them long forgotten and some with no existing records. Since then, more have also been discovered!
Jim Leslie was Head of Geography at Nairn Academy until 1991 when he was appointed Adviser in Social Subjects for Highland Council and, some years later, Education Officer in Ross and Cromarty. He is now semi-retired working in administration and in historical research, documenting the history and development of Highland hospitals. Steve Leslie is Consultant Cardiologist and Associate Director of Research, Development & Innovation with NHS Highlands. He holds Honorary Professorships with both the University of Stirling and the University of the Highlands and Islands (UHI). Jim and Steve have published four books detailing the Hospitals of Skye, Nairn, Lochaber and Inverness and will be available for purchase at their talk.
Cromarty History Society meets in the West Church Hall, Cromarty at 7.30pm on the the third Thursday of each month, September-April.
20 September 2017

North Kessock Meeting October 4th 2017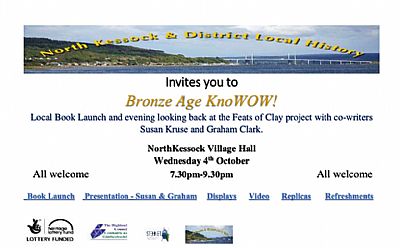 We have been asked to advertise the North Kessock and District Local History Book Launch and Meeting entitled "Bronze Age KnoWOW" with the authors Susan Kruse and Graham Clark on 4th. October.
20 September 2017

Changes to Groam House Lectures — September and October
Groam House has sent us the following information about changes
… we have had to make a change to our programme and there will not be a talk on the 28th September as previously listed.

Instead the talk on the Rosemarkie Caves Project 2016 & 2017 will take place on the 26th October and [we] will e-mail you with the full details nearer the time.

The talk on the Scottish Wildcat Action Project that was to have been on the 26th October has been cancelled.
17 September 2017

Meeting September 21st 2017: Interpreting the Black Isle and Beyond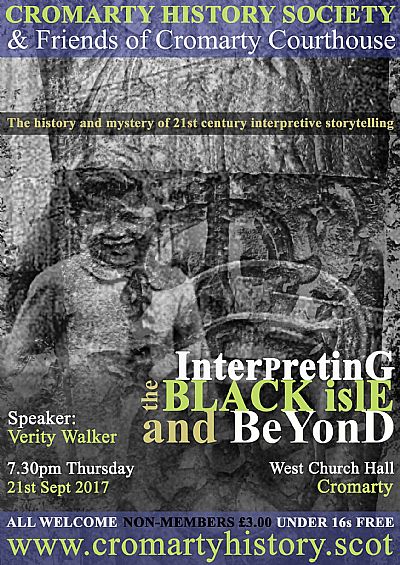 Interpreting the Black Isle and Beyond :The history and mystery of 21st century interpretive storytelling
Verity Walker
Most recently, she has project-managed the community engagement side of the Kirkmichael restoration for the Kirkmichael Trust and plans to build on this with a new project looking at the mediaeval period in the Highlands with a focus on the Chanonry of Ross. Her debut historical novel about WWI, 'Major Tom's War' will be published next year. Verity was brought up in the Black Isle by her mother Penny Poole, a local teacher and keen amateur historian. As a young girl, her summers were spent visiting historic sites such as castles or ruined burial grounds. This love of the past stayed with her and influenced her professional life.
This talk will take the audience on an entertaining 'tour' of some of the most beautiful places in the Highlands — with a surprise (and a story or two) in store!
Cromarty History Society meets in the West Church Hall, Cromarty at 7.30pm on the the third Thursday of each month, September - April