10 March 2018

Meeting March 15th 2018: A Tale of Two Homes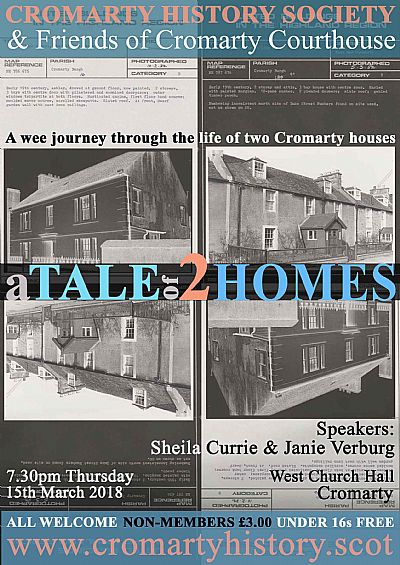 A Tale of Two Homes: A wee journey through the life of two Cromarty houses
Sheila Currie & Jane Verberg
This month's talk is best summarised by the words of both speakers, who have spent a year researching the history of their homes and present for the very first time their findings. "Janie and Sheila have been exploring the lives & times connected to their homes in Cromarty; both built in the early 19th century in what was then the very new town among the farmlands of the 'Ness'. We'll each tell what we've uncovered about the lives of the people in each of our houses over the last 200 years. We want others to feel confident in carrying-out their own research and so we will also talk about the process of research where the two of us — both shambling amateurs! — have found our paths through Archives and Historic Records."
Sheila Currie
"My first love was — and probably still is — Archaeology and I worked on digs across the UK in my teens and twenties. I trained as a Geologist which gave me a vivid sense of deep time and how the world beneath our feet was created; and insights into the geological processes making the future all around us all the time. A "career" that began by doing practical outdoor conservation work culminated in helping Scottish Natural Heritage become a low-Carbon organisation; and developing management & reporting tools for Public Bodies across Scotland to do the same. Now "retired", I am active in Politics, obsessed by mesolithic and pictish history; and I am a committee member of the Cromarty History Society."
Janie Verburg
"I grew up in a tiny village on the Chiltern Hills in Buckinghamshire, England. I was fascinated by the Iron Age Hillfort that was tucked in at the back of the Common and early on I wrote about the women I thought must have lived on the site. I went on to study Theology and Philosophy at St David's University College in Wales and later became a teacher for children with 'Learning and Behavioural Difficulties'. I moved to Cromarty in 2004 and immediately felt at home among the stories of Hugh Miller. I adore walking through our town, feeling as if we too are weaving histories. The Past is here with us everyday but so is the Now. Recently I have had a strong sense that our Now will become the Past in someone else's Future. That places a responsibility on us to document. Preparing this talk about the Old Bank is a small attempt to contribute to that process."
Cromarty History Society meets in the West Church Hall, Cromarty at 7.30pm on the the third Thursday of each month, September - April
10 February 2018

Meeting February 15th 2018: Playing the Game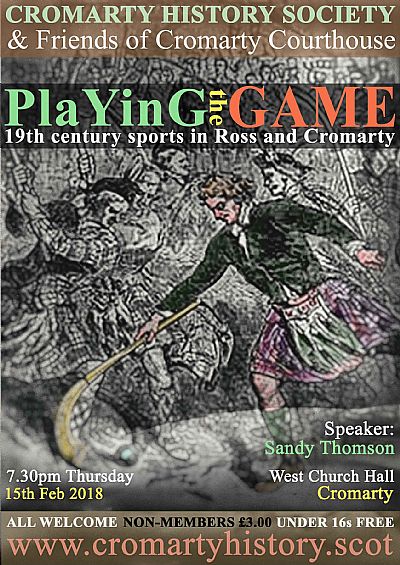 Playing the Game: 19th Century Sports in Ross and Cromarty
Sandy Thomson
The second half of the 19th century saw a remarkable explosion of interest in team games throughout the UK. Traditional 'lfolk games' became standardised and organised on a national basis, and the young men (they were mostly men) of Ross and Cromarty were enthusiastic participants in cricket, football, rugby, etc. This talk will explore some of the reasons behind the growing interest, and share what we know of the sports and games played in Cromarty at the time.
Sandy Thomson is a former Senior Lecturer in Education at the University of Strathclyde who retired to Cromarty in 1997, when he re-kindled his interest in history by studying for a Diploma in Scottish History at the University of Dundee. He was an active member of our Committee for many years and served two terms as Convener. He has been a regular speaker at Cromarty History Society meetings on a variety of topics of local interest, and was instrumental in securing the publication of Eric Malcolm's two books on Cromarty history 'The Cromarty We Knew' and 'Heroes and Others'. In 2011 he organised the Conference to mark the 400th anniversary of the birth of Sir Thomas Urquhart of Cromarty, and in 2013 he chaired the group responsible for the 'Cromarty Homes and Heritage' project.
Cromarty History Society meets in the West Church Hall, Cromarty at 7.30pm on the the third Thursday of each month, September - April
13 January 2018

Meeting January 18th 2018:Walking with Cattle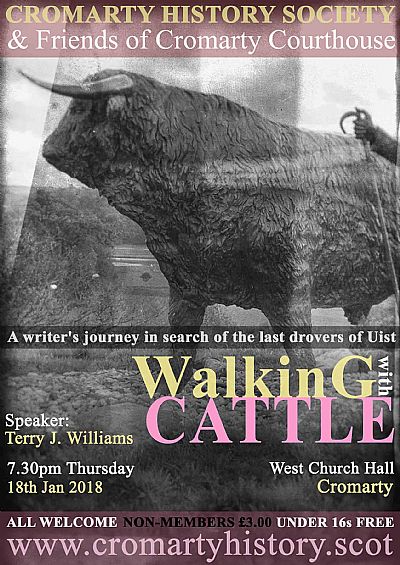 Walking with Cattle: A writer's journey in search of the last drovers of Uist
Terry J. Williams
Stop press! Terry William's book in longlist for Book Prize: http://www.bbc.co.uk/news/uk-scotland-highlands-islands-42663987
Terry J. Williams grew up on a Westmorland farm, studied French at Bangor University in Wales and came to Scotland in 1977. Subsequent moves took her from the Borders to West Perthshire, where she worked as a tutor in Publishing Studies at Stirling University. She then spent ten years in a crofting community on the Isle of Skye and became a full-time writer and photographer. That work eventually brought her east to the Black Isle, where she has settled near Rosemarkie. Terry has written and illustrated feature articles for several magazines, including the Scots Magazine over many years and the North American quarterly, Scottish Life, with whom she continues to work as a regular contributor. Her first book, Ten Out Of Ten, was published in 2010 to commemorate the tenth anniversary of Sgoil Chiùil na Gàidhealtachd (the National Centre of Excellence in Traditional Music) in Plockton.
Walking With Cattle is the title of her second full-length work and this talk. Terry will read extracts and touch on the general history of droving in the Highlands and quote from her interviews with the few remaining individuals who remember the days of walking with cattle in the Uists and Benbecula. She will share highlights of her research, including one or two adventures that didn't make it into the book!
Cromarty History Society meets in the West Church Hall, Cromarty at 7.30pm on the the third Thursday of each month, September - April