11 November 2018

Meeting November 15th 2018: The Great North Road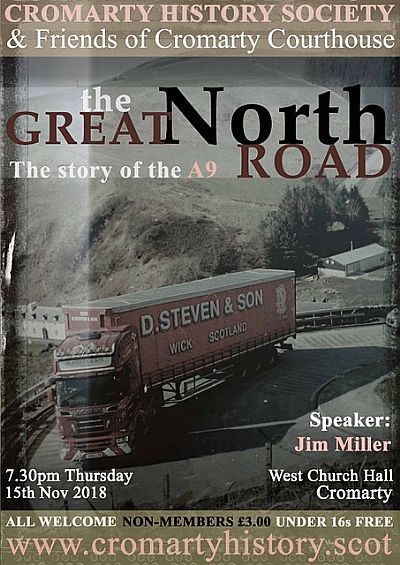 The Great North Road — The Story of the A9
Jim Miller
Jim Miller was born and brought up in Caithness. After working in London and abroad, he returned to the north of Scotland and has been a freelance writer for over 30 years. He has written regular columns in the Inverness Courier and the John o'Groat Journal and his books include The Dambuilders, Scapa, Swords for Hire and the The Gathering Stream.
The talk to the Cromarty History Society is based on his most recent publication, The Finest Road in the World, which tells the dramatic and sometimes humorous story of travel and transport in the Scottish Highlands.
The A9 is the spine of the communication network in the Highlands and, as a route connecting the north with the country's capital, has a long and varied history. Jim's talk will cover early travel on horse or foot, to the early 1900's when only nine vehicles were registered in Inverness-shire to the very different present day.
Alistair Dalton, reviewing The Finest Road in the World for The Scotsman, described this book as "leavened with vivid anecdotal detail that leaves the journey a memorable one".
Jim Miller has given many talks throughout the Highlands and at one time was involved in the Cromarty Book Festival. This will be an entertaining and informative evening on an iconic Highland route.
Cromarty History Society meets in the West Church Hall, Cromarty at 7.30pm on the the third Thursday of each month, September - April